CHEMECAR GOES TO AUSTRALIA
Welcome to Chem-E-Car UGM Website
Chemical Engineering Car UGM or usually called Chem-E-Car UGM is a car team that active to take part in national and international Chem-E-Car competititon. Chemecar itself is one of creative innovation in the field of engineering / engineering in the use of alternative energy that is the manufacture of car and its driving force comes from a chemical reaction.
Reactics Chem-E-Car UGM
Chem-E-Car in Universitas Gadjah Mada was first founded in 2011 as an organization in order to let Universitas Gadjah Mada students, specifically Chemical Engineering, Mechanical Engineering and Electrical Engineering to be able to compete and to pursue their dreams through Chem-E-Car competitions. Since the year it was first founded until now Chem-E-Car Universitas Gadjah Mada has achieved many accomplishments in either national stage and international stage.
Chem-E-Car Universitas Gadjah Mada itself consist of Technical Team and Non-Technical Team. Technical Team is tasked to research and built the best car with the appropriate energy for competitions. Meanwhile the Non-Technical Team is also important to manage non-tech matters and are thoroughly divided into more division which is, Secretary, Design & Media, Fund Raising, Equipment and Public Relation.
In a Chem-E-Car competition the participant is tasked to make a prototype car that operates using chemical reactions. During the competition, the car is to drive a fixed distance while carrying a specified load. And then the winner is judged on how close the car is to the expected distance. The participant is also tasked to make a poster or a video about the car itself.



Support Chem-E-Car with Donation You can support Chem-E-Car by donating based on the donation packages or other negotiation and click this button below
Yogyakarta – Kabar gembira kembali datang dari mahasiswa Teknik Mesin UGM. Kali ini mahasiswa-mahasiswa Teknik Mesin UGM yang tergabung dalam tim Chem-E-Car UGM berhasil menjadi Juara Ketiga Chem-E-Car untuk Race Competition. Lomba ini diadakan di Melbourne Convention and Exhibition Centre, ...
Yogyakarta – GMRT? Juara! Itulah jargon yang diteriakkan dengan lantang pada saat acara Pelepasan Tim GMRT yang akan bertanding di Kontes Robot Indonesia (KRI) Regional 3 di Universitas Diponegoro, Semarang. Acara pelepasan tersebut dilaksanakan di Gedung Pusat (Balairung) UGM pada ...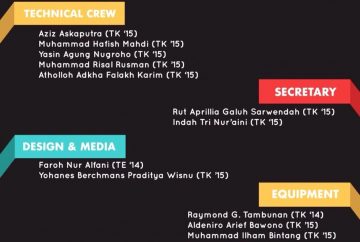 Inilah pengumuman anggota baru tim Chem-E-Car UGM. Untuk teman-teman yang terpilih, kami ucapkan selamat bergabung dan selamat berjuang bersama di Chem-E-Car UGM. Bring the victory home! Chem-E-Car Juara!!
Contact Info
Chem-E-Car UGM
Chemical Engineering Departement Building
Faculty of Engineering Gadjah Mada University
Grafika St. 2 Yogyakarta 55284
Telp +62 274 902170, 902171
Fax +62 274 902170, 902172, 555320 Contact Person : Patricia (+6289619808525) Fadzri (+6283840812069) chemecar@ugm.ac.id